EnviroMix Fully Compliant with BABA Requirements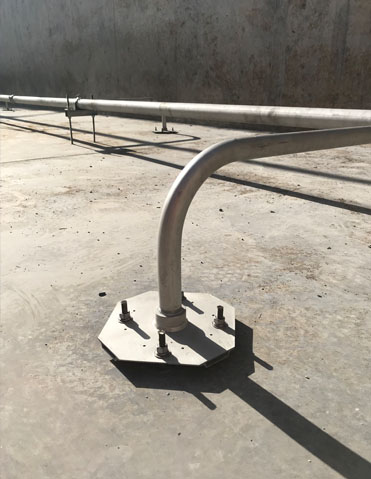 As a result of the $1.2 trillion Infrastructure Investment and Jobs Act that was signed into law in November 2021, a significant increase in funding for much needed infrastructure improvement projects across the country has begun. The law, which includes $55 billion for investment in the water and wastewater sector, provides a tremendous opportunity for the industry to improve water reclamation facilities, collection systems, and distribution systems nationally.
In order to support American manufacturing, the law includes a provision that all federal funding allocated to State Revolving Funds (SRF) and Water Infrastructure Finance and Innovation Act (WIFIA) funds must adhere to the Build America, Buy America (BABA) Act, which will expand upon the previous American Iron and Steel (AIS) Act.
According to Section 70912, the core requirements under BABA are:
For iron and steel products: all manufacturing processes, from the initial melting stage through the application of coatings, occurred in the United States.
For manufactured products: (i) the product was manufactured in the United States, and (ii) the cost of the components of the manufactured product that are mined, produced, or manufactured in the United States is greater than 55 percent of the total cost of all components of the manufactured product.
For construction materials: all manufacturing processes for the construction material occurred in the United States.
EnviroMix has been manufacturing its custom stainless steel headers for compressed gas mixing systems in the USA since day one. In combination with its domestically manufactured control systems and compressor systems, EnviroMix is perfectly positioned to be fully compliant with BABA, without requiring any special waivers and without disruptions to supply chain, product pricing, or quality assurance practices.
The situation relative to BABA guidance is dynamic, and EnviroMix has been working proactively since the law was signed to stay ahead of any developments to demonstrate full compliance. EnviroMix is actively engaged with communications directly from the Environmental Protection Agency, which is overseeing the law's implementation, and with its suppliers and vendors as further guidance is provided.
Will King, P.E., vice president of engineering at EnviroMix, stated, "We have actively been in contact with all necessary parties since the bill was signed in 2021 to ensure complete compliance. We have also implemented a new internal tracking mechanism to ensure the 55 percent domestic content requirement of manufactured products is satisfied for each project individually."
As required for each project, EnviroMix is happy to provide a certificate to customers stating the BABA requirements have been satisfied. For any questions, contact [email protected] or use the website inquiry form at www.enviro-mix.com/contact.